In episode 217 of The Stitch TV Show quilting talk show, Pam and Lynn answer the very pressing question "How Should I Quilt This?" with a number of sample tops from our UFO piles and the studio audience from Red Hen Fabrics in Marietta GA.
Tips and pictures for this episode:
Quilt 1 – Jelly Roll Race – Make your own Jelly Roll Race quilt with this tutorial from Missouri Star Quilt Company
Quilt 2 – Boxy Jelly Roll Quilt
Quilt 3 – Linda's Triangle Christmas Tree Quilt
Quilt 4 – Linda's Tree Quilt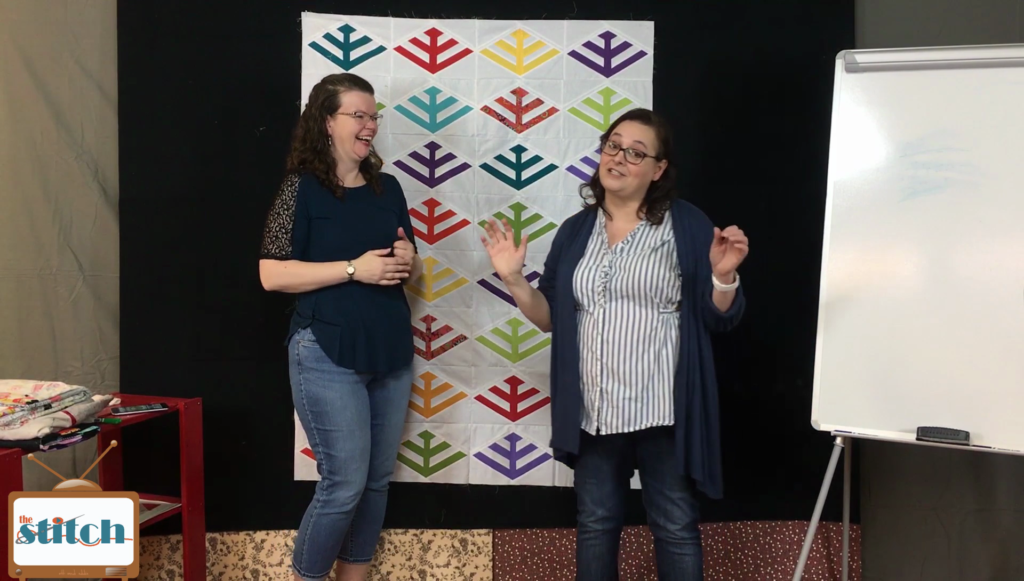 And close up of the background fabric:
Quilt 5 – Lynn's Layer Cake Star Top
Quilt 6 – Lynn's Disappearing Pinwheel Quilt (make your own with this Missouri Star Quilt Company tutorial)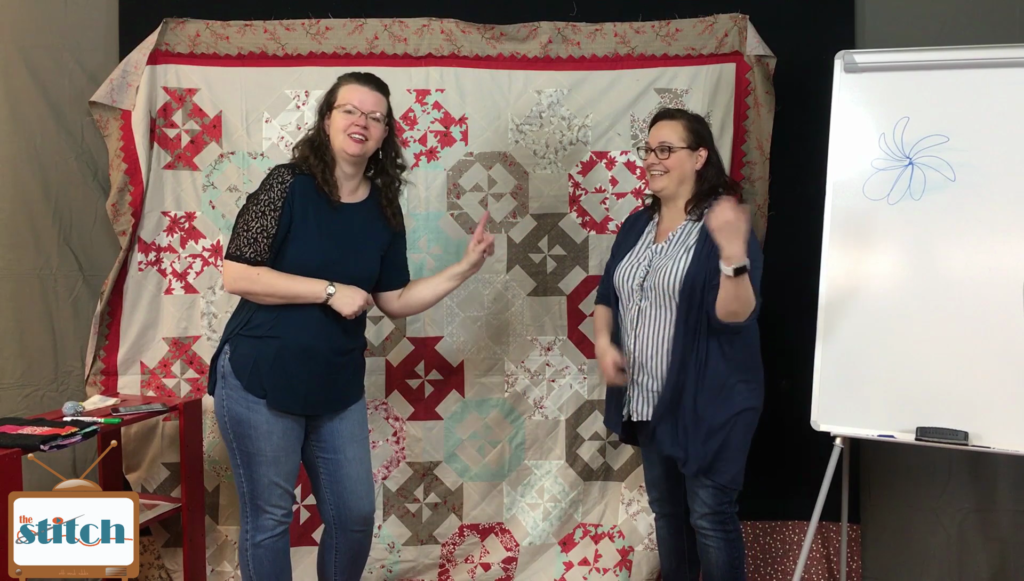 And Pam's fangirl moment with Jenny Doan at QuiltCon.
Quilt 7 – Pam's Stray Cat Strut Quilt
We're doing a live filming at the Georgia Celebrates Quilts show on June 10 at 10:30am the Cobb County Civic Center in Marietta GA!
Audio only versions of the show are available in the Hip to be a Square quilting podcast feed.
The Stitch TV Show mugs are available from Lasting Impressions Atlanta! Purchase options will be on their website shortly.
Our next Virtual Stitch-In is May 12, 2017 at 7 pm US Eastern
If you enjoyed it, help spread the word on your blog, or share on social media and tag us with #TheStitchTVShow!