Recent Posts From
News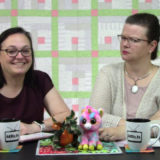 Join us for a new episode of quilting chat with friends! We're talking about tips for quilting large quilts on a domestic machine, and common quilt sizes.
Join us for another episode The Stitch TV Show! We're discussing big stitch quilting and sampler quilts.
In this episode, Lynn and Pam take viewer questions and do a round of...