Here are the lectures and classes available from Lynn and Pam! We'd love to hear from you and talk to your group! Contact info at thestitchtvshow.com to inquire about availability and pricing.
"Sew Fast and Take Chances" with Pam & Lynn
This one hour lecture shows how to find and embrace your best inner quilter from building confidence with color, improving your productivity, and learning how and when to take chances in your quilting to get the best results.
1 hour lecture for guilds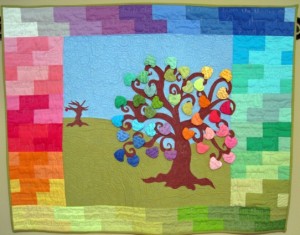 "Color Confidence" with Lynn
This lecture will look at color in quilts and how to approach designing a quilt using a color wheel, nature, and photography.  The presentation will cover steps quilters can take to develop confidence in approaching the color choices in their next quilts.
1 hour lecture for guilds

8 hour class with color exercises and development of students' color wheel
Typography with Lynn
Lecture on types of fonts and how to include them in quilts.  Techniques include paper piecing, applique, couching, and calligraphy.
1 hour for lecture for guilds

8 hour class to cover the techniques to use typography in quilts and fiber
"Create Your Own Applique Design" with Lynn
Class will cover techniques for designing and creating appliqué. Using fusible appliqué techniques, the student will use picture or inspiration to draw and create appliqué.
1 hour lecture for overview of technique

1 day class to design and create applique
"Quilting with No Free Hands, or How to P/AM It!" with Pam
In this fast-paced one hour lecture, go through the process of identifying how you can optimize your quilting to not only organize and finish more projects, but enjoy the process! Quilters will leave with a better understanding of their optimal sewing set-up and some great tips to get more done.