The Stitch – Episode 101!
The inaugural episode of The Stitch is up!
We're still learning our way around cameras and sound and not looking like newscasters, and expect our second episode to be EVEN BETTER!
Links of interest from the episode:
The (ridiculous) pile of buffalo bits Lynn gave Pam, and the finished miniquilt: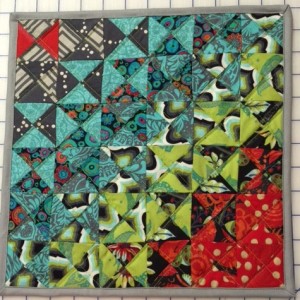 The hourglass block Pam gave Lynn, progress, and final pincushion:

And here's our first piece of fanmail from Kay!
Join us Friday September 11, 2015, at 7pm US Eastern time for our virtual sew-in! Details with viewing links going up closer to the event.
This episode was sponsored by Barney Pens!  Thank you for making the awesome seam rippers that we try not to use that often, but look at plenty because they are so, so pretty.