Join us to learn more about non-traditional quilt backs like fleece, minky, sheets, and more, and what to look for in sewing room lighting.
This episode is brought to you by Ink & Arrow Fabrics and Famore Cutlery!
The quilt hanging behind us is Islands in the Stream, from the September / October issue of Modern Patchwork!
Tips and links for this episode:
The tutorial for the hexagon pincushion caddy can be found at Penny's Hands.
Here's our selfie with Jane Sassaman!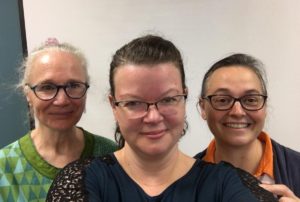 Check out wool balls for your dryer
Some different or non-traditional quilt backs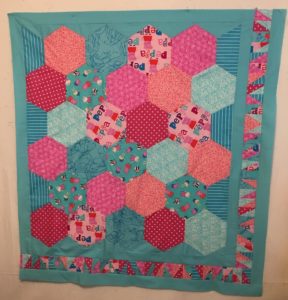 Pam's Pittsburgh Steelers quilt with the fleece back:
Today's episode was brought to you by Ink & Arrow Fabrics, because fabric should be fun! Check out their Pixie Dots basics line!
Thanks also to our sponsor Famore Cutlery; learn how to stay sharp with their line of scissors and cutting implements.