We are delighted to announce our newest pattern, Keys to My Heart! This quilt is designed in three sizes – baby, lap, and queen size and can be a scrappy as you want!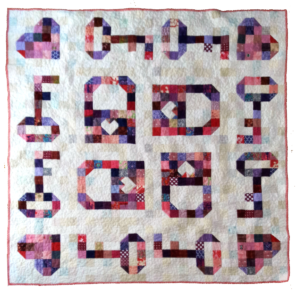 The great thing about this pattern is that it works for a controlled scrappy look like the cover quilt, or a more wild set of scraps as long as you have value definition between the background and motif fabrics (that is, one set is light and the other dark) like the one on the right.
The pattern is available from our digital shop now as a PDF download, complete with fabric requirements and instructions for all three sizes and quilting suggestions. If you're celebrating the birth of a new baby or a special anniversary, this is the perfect quilt to embroider that special date inside the lock to keep the event close to your heart. Check it out!