In case you don't know, we sell a variety of items on our online shop!  Digital quilt patterns are sold as PDFs and available at any time, so there aren't any holiday shipping deadlines for those items.  In case you were interested in something else, however, here's a helpful guide for shipping deadlines to get things in time for the Christmas holiday.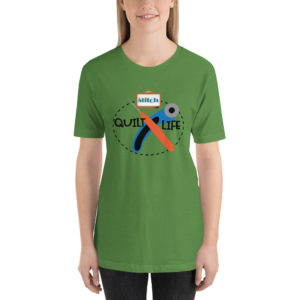 T-Shirts and Mugs
These items are printed on demand by our fulfillment partner, and the table below is the shipping deadline for the United States to get your items by December 21. Alas, the Economy shipping deadline has passed, but you've still got time for Standard shipping.
| SHIPPING METHOD | ORDER DEADLINE |
| --- | --- |
| Economy / Flat rate | Nov 27 |
| Standard | Dec 4 |
| Express | Dec 5 |
| Overnight | Dec 7 |
Laser-Cut Applique Kits
These are actually fulfilled by us/our production team.  They go out via USPS or FedEx, depending on the lowest rate, so the best date to order by is December 10 to be sure to get it by December 21.
Now whether you can get that project done by Christmas is out of hands, so get stitching!