We are so excited to debut the first of our new quilt patterns debuting at Quilt Market and International Quilt Festival this fall, the Flight of Fancy butterfly quilt!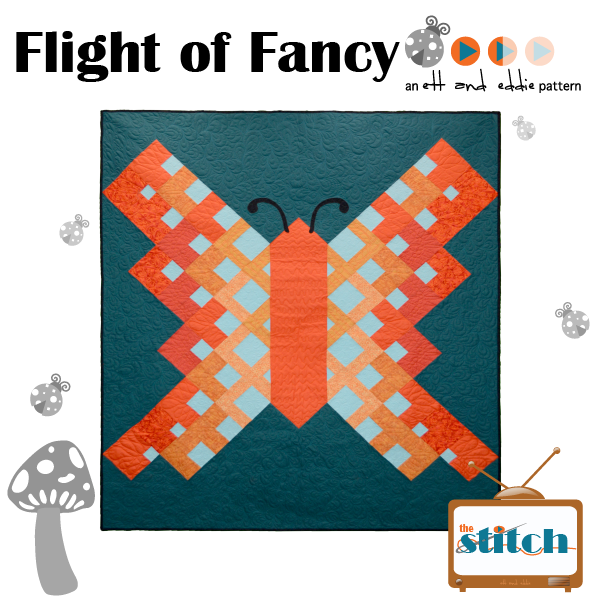 This fun butterfly quilt was designed to work as a selfie quilt, and uses 6 wing and body fabrics along with the background and constant fabric for the wing centers. Behold Pam's semi-selfie in celebration of finishing the binding (yes, this is her smiling – don't judge the RBF).
The block construction for all the butterfly wing pieces is identical, so once you get the fabric pieces cut and organized they go together quickly.
Those six wing fabrics can create an ombre effect, and you can stick with solids or mix it up with some prints. This version switches up the colors for a classic pink butterfly, which was a perfect baby gift for a co-worker! And you can also see what it looks like with the optional antenna applique left off.
This quilt originally started as an idea for a charm pack quilt last year, so the centers in the butterfly wing blocks can be substituted out for a commercial charm pack of 42 – 5″ fabric squares to help you get some inspiration for the wing colors.
If you want to make your own version of this quilt, get it from our online shop! Or if you're at the Fall Quilt Market and Festival Oct 24- Nov 3, 2019, stop by booth 941 for your own selfie with ours.