We wanted to share our schedule for the upcoming International Quilt Market and Festival in Houston for those attending.
Quilt Market
We're kicking off our Quilt Market event with two schoolhouse sessions on Friday, Oct 25. Both of these sessions feature both Lynn and I sharing what we've learned in 4 years of producing the The Stitch and working with local quilt shops.
Use Social Shop Programs to Build Community and Drive Sales
Friday Oct 25 at 12:35pm in Room 360E
Use the knockout combination of social media and shop programs to attract and retain new customers. Whether you're online or brick & mortar; enhance current clubs/programs, evaluate new ones and reach new audiences online.
Use Online Videos to Increase Sales
Friday Oct 25, 1:10pm in Room 360E
Show off your business with social media & online videos, whether online or brick & mortar. Get tips for equipment no matter the budget, maximize your reach with the right social channels, and master compelling content.
Visit Us at Booth 941
We're vending to shops in our own little corner of paradise in Booth 941, and will have samples of our latest quilt patterns and shop programs, and will be debuting 3 new shop programs and 2 new quilt patterns at the event.  More details on those coming soon in the next couple of weeks!
We're also delighted to be participating in the Quilt Pattern Designer Booth Hop with 12 other designers! Market attendees can stop by our booth to pick up the passport to get stamps from all the booths for a chance to win a large assortment of prizes worth over $1300; we're giving away one of our five shop programs and a set of 6 quilt patterns (shop's choice!) that shops can re-sell.
We're also participating in the QT Fabrics + Friends Booth Hop; stop by the QT Fabrics booth #736 to pick up that passport, and then come visit us! We've contributed 2 sets of 6 Belinda and 6 Into the Groove patterns to the 3 prize packs for that booth hop.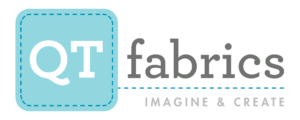 International Quilt Festival
T
his one is easier – we have a booth at Festival for the first time! Stop by booth #941 Between the Oct 30 preview night and Sunday Nov 3 for a sassy selfie, awkward hug, or embellished fist bump. We're introducing some new products to go with our patterns, threads (!!!!), quilt kits (for the first time!), and more.
Because we have a booth, we don't have the freedom of a meet-up out on the show floor, so we hope you'll stop by for some quilting chat with friends and  check out the super cute dressers containing lots of awesome Stitch-y goodness.