I'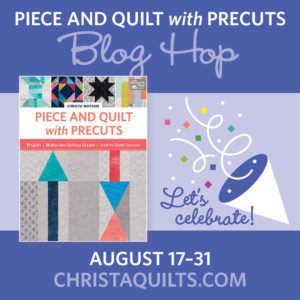 m very excited that our friend Christa Watson has a new book, Piece and Quilt with Precuts! Christa is an awesome teacher and all around great cheerleader for quilting and modern quilts. Her new book focuses on both using precut fabrics of all sizes and how exactly to quilt those quilts. Taking the guesswork out of that step can be quite liberating, as we've seen on our "How Should I Quilt This?" episodes of the show.
To help Christa celebrate, we're participating in her blog hop, and have made a version of the Kites quilt. The original pattern uses a 10″ full layer cake, 5″ charm pack, and 2 1/2″ square pack plus background fabric and to make a queen sized quilt. I scaled it down a bit to make a lap size with only 9 blocks.
The quilting uses two different designs: one in the background and one in the precut fabrics. My favorite of the two is the Packed Flowers design in the purple background, which you can see in this close-up!
You can see the other versions of the Kites quilt and all the quilts in the book by visiting Christa's master post for the blog hop. Some of the other blog hoppers are hosting giveaways, so check them all out!
To get your own copy of the book, you can get a copy directly from Christa's store (which she'll autograph!), Amazon, or check your local quilt shop!